Network of Specialists
Through Northwestern Mutual, I have access to a Network of Specialists. We help each other, share ideas and common values, and leverage each other's talents to help you achieve your personal dream of financial security.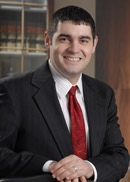 Wealth Management Advisor
Josh Eisenberg, CFP® is a Wealth Management Advisor in Atlanta, Georgia. Josh Eisenberg has been a wealth management and financial services professional since 2007 and has been with Northwestern Mutual since 2009.  Deeply skilled in financial, estate and retirement planning.  Josh has a heart of a teacher and infact was once a teacher.  He lives in Cumming, GA with his lovely wife and five children.  He is deeply involved with his church and local community.  We have been working closely together since 2009 and formalized our partnership in 2014. 
Josh Eisenberg is a CERTIFIED FINANCIAL PLANNER™ professional.  Please read below for more information on this prestigious designation.
CFP®
CERTIFIED FINANCIAL PLANNER™
Experience, Knowledge and Ethical Advice.

The CERTIFIED FINANCIAL PLANNER™(CFP®) certification is one of the most recognized financial planning marks in the world. CFP® certification identifies to the public those individuals who have met rigorous professional standards and have agreed to adhere to the principles of integrity, objectivity, competence, fairness, confidentiality, professionalism, and diligence when dealing with clients. The certification differs from an educational designation or state license in that it is based upon requirements that have been determined by extensive job analyses of actual practitioners in the field, and therefore, continue to evolve with the profession. The CFP® certification prepares the financial services professional for a career-long commitment to meeting the ever-changing financial needs of clients.